Days #13 and 14


Monday, August 10, Day 13

It was 4:45 a.m. when Al and I were awakened by a neighboring crew preparing to leave. Not only were they noisy but one of them had a roll of strapping tape. It sounded as if he was taping everything in sight. It did not pay to go back to sleep by the time they had finished and left so I got up and took a shower. Several members of they crew had also got up by this time. I guess they could not sleep through that racket either.
Josh presented the crew members with their patches before we went to breakfast. He congratulated them as he worked his way around the circle, and told them that now they were men. Nathan received his patch and replied, "We are men. We have practiced the pelvic thrust." Breakfast was a good one.
I returned to the trading post again bought a plaque to give to Melrose Lumber when I got back. I had each of then boys sign the back of it. (Marge and Butch Haider, owners of the yard, thought that it was really nice.) I also gave each of the scouts a sheet of paper to write a few words about how they felt about the trip. They all knew that I was writing a journal and I told them that I would like to include their comments. I will include these at the end of this journal.

Al received a letter from Kirk, our ranger. Kirk had already left Philmont by the time we got off the trail. The letter was not a very nice one. Kirk accused Al of not giving him a chance and not letting him speak his point of view. He included a lot of anger into that letter. I was amazed that Kirk would write such a letter, especially to Al. I was the one who did not care for Kirk when he was with us. I was the one who told him to stop teaching the crew karate. Al just disagreed with him about Lutheran religious beliefs. Neither one of us could understand why Kirk felt he had to write this letter. It just proved to us that Kirk needs to grow up and look at the world a bit more. How he passed the ranger test I'll never know.

We were ready to leave Philmont at 9:30 as the bus pulled up. We were looking sharp wearing our scout uniforms. The afternoon would be spent in Raton. A trip to the Pizza Hut was on everyone's mind. The train was scheduled to leave Raton at 6:20 p.m.
As we rode into Raton I could not help but think on how well the weather cooperated with us on this trek. The crew was soaked a couple of times on the last two treks. In fact, we could count on a shower almost every afternoon. This trip was different. Virtually every day was beautiful and full of sunshine. It made the trip so much more enjoyable.
We did not waste any time once the bus dropped us off at the train station. We packed our gear to the side of the lobby and began the two mile hike to the Pizza Hut. Al volunteered to stay behind and watch our gear. He would eat when we got back. I wondered if he wanted a little time to himself. After all, we had been with the boys for thirteen days with little time to ourselves.

We arrived at Pizza Hut before they opened. I almost think that they were sorry to see us come. The place had an all you could eat buffet special that afternoon. The boys ate as if they had not eaten for a week. I am sure that the restaurant did not make any money on our group. By the time we left several of them were complaining about stomach aches.
The group stopped at a grocery stop on the hike back. The guys bought much junk food and pop for on the train ride home. They remembered that food on the train was expensive. I found a book to read on the way home. The rest of the afternoon was spent exploring Raton's business district and buying a few more souvenirs. Several members of the group bought colorful bandannas to take home. I found a few old scouting related books in the antique stores that were nearby.

The other troops arrived at the depot at 4:00 p.m. in the pouring rain. The worst storm of our time in New Mexico had drenched them and their gear to the core. I was glad that we had grabbed the earlier bus after seeing these guys walk in. Our train was running late again. It looked as if it would not be arriving until after ten that evening. I am starting to worry about our Chicago connection. There is a chance that we may have to spend the night in the windy city. That was something we were hoping to avoid.

Later that evening a couple of crew members disappointed me more then any other time during our trip. It was late, about 9:30 or 10:00. We were still waiting for our train. The scouts were bored. The stores and the ice cream shop across the street had closed for the day. The crew was occupying themselves by bragging about their 'rumbles' with the students from Sauk Centre. A few of them were using some rough language.
Tim and Josh wanted me to pretend that I was from Melrose. They would represent the gang from Sauk Centre in one of their recent escapades. I was a little leery of this. It seemed to me that they were proud of these fights. I thought to myself; these are my scouts? What happened to kind, friendly, and courteous? They tried to tell me that it was the Sauk guys that would start things. I replied that it takes two to tango.
Anyway, the language started getting worse. Even though they knew how I feel about its usage a couple of the older scouts continued to use it right in front of me. When one of them used the 'f' word a couple of times I finally blew my top. I became so upset that I was shaking as I told them all that scouts have certain rules and codes that they should strive to live up to. If they cannot do that then they should get out of scouting. Either that or find a scoutmaster who does not care what they do.
Saying that, I turned and walked away, back into the depot.

I sat in the corner between the walls and our gear, contemplating what I should do about this problem. These older boys do not seem to care anymore about what the Oath and Law mean. They use the rough language right in front of the leaders (and in school I know) and think it is cool or macho. Push-ups mean nothing to them. They are capable of during three times the fifteen that we make them do if they say it during troop meetings. They think fighting is 'cool'. Discipline is a joke to them. How I can function as a leader when the older scouts set such an example?
I think that it is time to resign as scoutmaster. I have had it with these attitudes. The Scout Law states that a person should be around others who share in his beliefs. Well, my beliefs and certain older scout's beliefs definitely are not the same. I am sick and tired of trying to fight it.
Two other topics of disagreement are uniforms and religious services. Several of the scouts are always trying to get out of doing their duties regarding these subjects. Both are extremely important parts of scouting. Why should I have to put up with this?
I did not talk to the scouts very much for the rest of that evening. I told Al of how I felt and broke down with tears in my eyes. Scouting means a lot to me and I do not think the kids truly understand that. When they act this way and treat me as they did it really hurt. It makes me feel like all the time and effort I have put into the program, and into helping them, is not worth anything at all.
But, I do not think I can totally give up scouting just like that. I have been involved too long to drop out. It is time to step down as scoutmaster and become an assistant or committee member. Then I do not have to deal with the boys on such a personal level. I can participate in the activities that I want too with-out having to be at them all. If I was an assistant scoutmaster I could devote my time strictly to the younger scouts. After all, if the older boys do not have time for me then why should I make time for them?

For the rest of the trip I kind of turned the troop over to Al. I really did not want to deal with the boys any more.
The train finally arrived after 10:30 p.m. Somewhere between California and Raton a rock was dropped from a bridge as the train went under it. The windshield was shattered and a new engine had to be found to pull the cars. A freight train engine was currently pulling it. We would miss our first chance at catching the early train in Chicago. We, and two other crews, loaded our gear and boarded. It did not take long for everyone to nod off.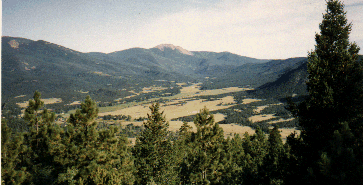 Baldy Mountain; Philmont's highest peak.

Tuesday, August 10, Day 14

When I awoke this morning I was not in a better mood. To make matters worse the train was running even later. It had lost quite a bit more time during the darkness. It now looked as if we may have to spend the night in Chicago. I did not care for that idea and neither did Al. Al began to look for an option.
He found one. We have a chance to get off the train in Kansas City. From there we may be able to take our bus tickets of the Chicago to Minneapolis trip and get exchange them for a Kansas City to St. Cloud trip. He would have to get off the train at Kansas City and call the bus terminal to see if that would be all right. He would have to be quick, however. The train would only be stopped for short time. There was a slight possibility that he may not make it back to the train in time.

The crew is prepared to leave the train at a moment's notice when we arrive at Kansas City. Al wasted no time getting off the bus and into the station. Many of us anxiously watch out the window for his return. When he returns he reports that the bus tickets can be exchanged. We move quickly. There is some confusion as to which car our gear is in but we find it. The scout leader of the troop our stuff was stored with watches us to be sure that we do not grab any of his scout's gear by mistake. Two other troops also get off at this point.
Outside the terminal I make the scouts put their uniforms back on. Al called his wife to inform her of our change in plans. It would not be a good idea to have her show up in Chicago if we are not going to be there. Al asks the ticket agent for directions to the bus terminal. It sounds as if it will be easy to find. It is only a two mile hike. We put on our packs and move out.
Who knew that we would be doing any more hiking? I thought we finished doing this at Philmont.
Kansas City is a pretty city. It is clean and well organized. Unfortunately there is no bus terminal to found. After hiking a couple of miles Al approaches a bus which has stopped at an intersection. He asks the driver where the terminal is located. We do not like the answer. The agent at the train station told us to go right as we left. We should have gone left. We now have a four or five mile hike to get to the terminal.
Our spirit plummets. It is hot. Walking on concrete while wearing a pack plus carrying out extra bags is truly a burden we did not ask for. Going back to the train station to give that guy a piece of our mind is a thought we all seem to be sharing.

The terminal is a blessed site. As soon as we form a pack line the scouts begin changing shirts. I don't blame them. A few of them remove their shoes to give their feet a breather. Al and I enter and walk up to the ticket 'window' to exchange the tickets. Then it is time to sit back and wait. It will be a few hours before the bus leaves.
We passed a sporting goods store on the walk to the terminal. It is only a couple of blocks away. Several of the scouts express an interest in checking it out. I do not want them walking around a strange city by themselves so after a short talk with Al I agree to go with them.
The store is huge! Every kind of sporting equipment a person could want seems to be here. The place also has a basketball court, golf driving range, downhill ski ramp and a part of a tennis court so that customers may try any of the equipment. It has enough to keep us busy for twenty minutes.
It is close to supper time when we get back to the terminal. We have enough money left in our contingency fund to buy a few pizzas. Al calls several places before he finds one that will deliver to the station. It was a bit more expensive but it sure tasted good.

The trip to Minneapolis is uneventful. Thank goodness. I did not need another surprise. I think the crew shares that feeling. It feels good to be back in our home state. I am pleased. We are back in Minnesota at the same time we would have been if we would have made our connection in Chicago.
We spend an hour in the Minneapolis terminal before our bus leaves for St. Cloud. As the bus is being loaded everyone realizes that it is overbooked. Another bus has to be called in. All St. Cloud ticket holders are asked to get off and wait for the new vehicle. We are told it will only take a half hour.
Another delay. We are so close to home. Oh, well. We will have the new bus to ourselves, almost. A couple of other people who are also going to St. Cloud will be joining us. Luckily, the driver arrives sooner then expected. We load up and are soon on our way.
This last bus ride proves to be great. We have the whole bus to stretch out in. There are no stops we need to make on the way, thus we save the time we lost waiting for the new bus. We arrive in St. Cloud with-in minutes of the original bus.

Betty Spoden, Mary Monroe, and Mary Hanson are waiting for us. The scouts load the vehicles quickly. We are anxious to get home. We have had enough trouble getting this far. I hope there will be no further incidents.
Melrose is a great site for sore eyes. We are home. Everyone grabbed their gear, said good-bye, and headed for the cars that would take them home.
The trip is over.




PHILMONT 1992
Part 3: A Trip Completed

The trip is over. It is great to be back home.
It is time to return to the normal routine; go to work, pay the bills, etc., etc. This week-end I will be working with the Patrol Leader Council on developing a program for the next year.
As I look back many thoughts go through my mind. There were moments of pain. There were times when I questioned my own sanity for going a third time. There were several times I became very irritated with the scouts' behavior. And yes, I even contemplated resigning as scoutmaster a time or two.
But then I remember the good things. The obstacles that we overcame. The programs we participated in. The great views and scenery. Our Christmas celebration. The bear. The Tooth of Time. The fantastic weather.
The fantastic teamwork!
After looking back, I came to realize that this was probably the best Philmont trip I have ever participated in. The good things greatly outnumbered the bad.
Why?
Most of the credit goes to the crew. They worked together. They got things done. They got along with each other. When ten teenage boys are together this long, for an activity as strenuous as Philmont, an adult leader can only pray that things will go well. I am proud of the crew. They have exceeded my greatest hopes.
Josh and Ross deserve a lot of credit. They did a fantastic job of leading the crew. A crew leader and his assistant have to deal with a lot of pressure during the trip. They handled it well and were able to keep the spirit of the crew high. I am going to be sorry to see them go as they get older. But when they do, I think that they will go far.
I am glad that Al was the other adult advisor. Granted, I was apprehensive about the idea at first. But Al did a sensational job. He let Josh and Ross lead. He let the kids be kids. And he helped me get through a couple of rough moments. I think the scouts learned a few things about Al. And maybe, Al learned a few things about the boys.
Will there be another trip to Philmont in my future? Who knows? At this time, with the last trip and its hardships still fresh on my mind, I would have to say no. I do not know if I could physically and mentally handle it.
Ask again in two years.
I might say yes.
After all...
"We are men. We have practiced the pelvic thrust!"

Somewhere in the Philmont backcountry...
Post script.
The last day we were at Philmont I asked the scouts to write a quick note on how they felt about their trek. I explained to them that I planned to include their notes in the journal I planned to write when we got home. I am glad they all agreed to do this for me. I feel it helps to give a little insight into what they thought of their adventure.

NATHAN BLOMMEL
The trek was great! It was an adventure I won't forget. We worked as a team! Thanks guys.
TOM HANSON
I thought that overall it was a great trip. It was everything I'd hoped for and more. I had a really great time and I hope that everyone else did too. The views were spectacular, especially from Schaefer's Peak and the Tooth. I think we had a great crew and that we all cooperated and worked hard and that's what made this a great trip.
JASON KRAEMER
Philmont was a new experience for me. Being forced to eat food combinations that had never been invented before. Wildlife was unbelievable. Seeing four bucks in one meadow at one time was something you'll never see again. The memories will be forever lasting and something you can brag about to your grandchildren. When you're out there you want to have real food but when you're there you never want to leave. Philmont was something I can and will brag about for the rest of my life.
GREG MONROE
What I liked the most about Philmont is the cantina and the adventure. The one thing I hated about Philmont is the food (it was gross) and the small amount of food.
TIM NATHE
I felt that Philmont was a learning and very fun place. We all worked as a team and we all grew together. I loved the place. It was great. I just wish I could come back.
PETER ORTH
I think we all had a great time and we learned how to work with each other and to work as a team, not an individual. It also tested your patience and ability which is good. I thought it was awesome. Some of the food could be better.
COREY SPODEN
What I thought about Philmont is it was a challenge and adventure. I really thought it was fun. What I thought was good was the teamwork. What I thought didn't work but was nothing.
PAUL STRONG
What I liked about Philmont was the scenery. I also liked how everybody gets along so well. The food was good too. I think we should have had a longer trek.
ROSS FRERICKS (assistant crew leader)
I had a great time on this Philmont adventure because I took in most of the programs I missed last time I was here. Having the rain miss us was great because we had no problems with setting up camp or with wet gear.
The hiking got to me after a while. I didn't look forward to hiking every day. I didn't have as much fun at the sites maybe because we didn't have a crew like California with us.
Overall things went very smooth and we didn't have many problems. The attitudes were great although they could have been better at some points of the trek. Everyone achieved what they came here for and I think that is great. I really appreciate the time and effort the leaders put into this trek.
JOSH SPODEN (crew leader)
Philmont was fun. The crew was active and easy to get along and they used lots of teamwork. The sites were beautiful. The hikes were a good workout. I wish there was more and better food but hey, thanks mom and dad. Happy birthday Chuck Taylor.



THE END



All right then...
Do you want to go back to the:
High Adventure Page
or
1992 Philmont Journal:
1992 Philmont gallery:
(under developement)