Days #7 and 8


Tuesday, August 4, Day 7

It rained a couple of times during the night. The sky is overcast this morning when Al and I get up at 7:00. Josh has decided to let the crew sleep in an extra hour. He will not get them up until 8:00. It is a little warmer this morning.
We played volleyball again after breakfast. The teams were almost the same as yesterday. We have noticed that we seem to be playing at a slower speed today. Must be the sore muscles and stiff arms that are left over from yesterday.
We were packed and ready to go by 10:30 a.m. Sometime around breakfast Nathan was putting on his shorts and ripped them open in the crotch. He found it to be a bit embarrassing but left them on. After all, our supply of clothes was very limited. We had to make do with what we had.

A few of us wanted to get a Santa Claus Camp postcard before we left. Tim, Greg, Jason, and I wrote short reports on our theories of how the camp got its name. Tim's theory was that this was Santa's summer home, a place to get away from Mrs. Claus. Greg wrote about this area being the site of the original Santa's workshop which was moved after a group of scouts found it. Jason thought it was actually Santa's winter home.
My story was a bit more elaborate. I told the story about Randall the Elf who, when he was but a Boy Scout himself during the early years of Philmont Scout Ranch, had hiked northward, uphill, through the traitorous Bear Canyon. He was so happy as he came out of the canyon that he turned his exhausted body northward and gave thanks to the big red suited guy. Thus this area became known as Santa Claus camp.
The four of us were thrilled when we received our postcards. It was a simple card; black lettering on a white paper. The fun was what was written on the card. The back of the card read;

SANTA CLAUS CAMP
GENERIC POST CARD
When there's nothing else to send!
SIZE 4x6 IN NET WT. 0.012 OZ

Directions were given on how to use the card. It said, "Complete message, address, and stamp. Finally, something that doesn't require more water, more hiking, a crew leader's copy or good ole AP."
The front of the card had a place to put the address on. It came complete with a variety of statements that were checked to tell the people back home how things were going. It read

Dear _______________
o You wanted me to get you something from Philmont...here it is! (It was free.)
o I believe in Santa Claus.
o You ain't lived until you've downed a pemmican bar.
o Had a meaningful relationship with a bear.
o So, just what do females look like?
o Something here smells like a dead wart hog.
I think it is: o My advisors.
o My crew members.
o My trail food.
o Gotta get one of these pilot-bombardier latrines for the yard.
x The staff here are just the most incredible people I've ever met.
o Have the hot tub ready when I get back.

I rate the following Philmont things on a scale of 1 to 10:
Night life _______ Weather _______ People _______
Wildlife _______ Cuisine ________ My Pack ______
Traffic _______ Scenery ________ My smell ______
What else can I say?
Signed ___________________

There was also a note on the card that it was not for internal consumption.

We left camp at 11:00 a.m.. This hike would cover seven kilometers. It would also take us through Bear Canyon. Bear Canyon is known as one of the toughest stretches in Philmont. The temperatures here can reach close to a hundred degrees. If a crew was hiking northward through it it was almost all uphill. Most crews tried to get this canyon behind them in the early morning hours. But not us. We were studs. We were tough. We would be going down the canyon instead of climbing up it. Besides, a staff member at Head of Dean had told us that going down the canyon was easy. That is why Josh let the crew sleep late today.
Once through the canyon we would go under highway 64, over the Cimarron Creek, through Cimarron River Camp, and make our home at Visto Grande Camp.
It did not take us long to decide were glad we were going down the canyon instead of up it. Boy, was it steep! It was almost dangerous. Whoever had made this trail had never heard of the maximum of a seven percent incline. We did meet one crew along the way who happen to be going uphill. They were having a tough time. Everyone in our crew did fine. Corey's knees are knocking pretty much, however. Several scouts developed blisters because their feet were constantly rubbing the front of their shoes. Our toes were not conditioned for that.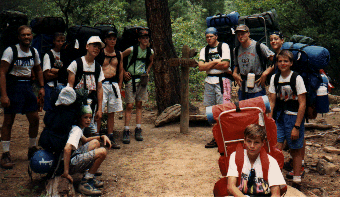 The crew is about to enter Bear Canyon.

We arrived at the highway by 12:30. The river is on the other side of the tunnel. Josh calls lunch time. Those carrying the meal pull it out of their packs while several of us remove our shoes. The cool air feels great on our sore feet.
It begins to sprinkle as we finish our lunch break. A short time later it begins to rain. I look above us at the clouds. They seem to be converging from three different directions. It looks as if they will meet right over our heads. I yell at Josh to stop so we can put our rain gear on. For the next thirty seconds it rains hard. Then it stops. It does not appear as if it is going to rain any more. At our next rest stop everyone took off their raincoats. Several comments are made about me and my paranoid attitude.

Visto Grande camp is named for its spectacular view of Mount Baldy and the valley below. A few of us cannot resist a look as we try to find a camp that makes the best of the view. This camp is not very well marked. It took us a little while to find a campsite. It took us longer to find the bear cable. Finding the latrine took the longest of all. It was nestled in a small clump of trees. Strange. Usually the back to back open air latrines are set so that one side is facing a beautiful view over a valley or trail.
The rain begins as we put the final touches on our campsite. It is a heavy sprinkle that threatens to be with us for the rest of the afternoon. Everyone takes advantage of the weather to catch up on some sleep.
Nothing much happened today. Visto Grande is an unstaffed camp so we were left to our imaginations to pass the time. Except for a game of tip or two nothing happened before a supper of chicken noodle soup. It was quite good.

The scouts did a bear chant tonight. They all went to the cable, leaving Al and myself behind. They yelled it loud enough so we could hear it. (How thoughtful of them.) It began with a new swim chant, one that was not as perverted as the one used back at Ponil. It was followed by a rousing rendition of the Mini-sota chant, one that contained a lot of spirit but terribly done. The actual bear chant was next. Instead of telling the bear to leave our food alone they told it to go to my tent instead. (Isn't that sweet?)
They returned to camp marching in a single file line signing a song by the rap group Criss Cross. Actually, the marching looked more like the bunny hop. The whole group, except for Greg, were dressed like the singers of Criss Cross. They were wearing their clothes backwards, shirts and pants. They looked so funny I had to smile.
Roses and thorns were pretty much the same as past nights. Except for Al's. His rose and thorn were the same thing; the trek is half way over. I think he stated what many of us were thinking.
Most of the crew went to bed at 8:30. Al, Tom, Nathan, and I stayed up a bit longer to chat. By 9:15 we were getting tired too so it was off to our tents for the night.
We plan to get up at 6:00 a.m. and leave camp by 9:00. Tomorrow is going to be a long day.





Wednesday, August 5, Day 8

"Wake up," Josh yells in the early morning stillness. A new day is upon us. The sky is clear and it is a cool 46 degrees. Breakfast consists of slim jims and granola, a hearty breakfast indeed. We left camp at 7:45 a.m., way ahead of schedule.
Today would be the longest hike of the trek. It would be a 12 kilometer hike that would start out at an elevation of 7700 feet, take us to over 8400 feet as we climbed Deer Lake Mesa, back down to 8000, and back up to 8600 feet. We would be going through Upper Bench Camp, Deer Lake Mesa Camp, Ute Gulch Commissary, Aspen Springs Camp, and Cimarroncito Camp before arriving at our final destination, Webster Park Camp.
We hiked along at a good pace. By 9:25 we had reached our mid way point, Devil's Wash Basin. Somewhere between camps the guys up front saw a deer but it vanished before the rest of us caught sight of it.

At 10:15 we arrived at the Ute Gulch Commissary. Here we would be picking up our final four days worth of food. The commissary is equipped with a trading post. Everyone decided it was time to pig out on junk food and stock up for later. We left a lot of money behind in the forty-five minutes we were there.
Someone once said that this is a small world. We experienced the meaning of that comment when we met a crew from Little Canada, Minnesota as we rested at the commissary. They are also on the eighth day of their trek.

Shortly before noon we arrived at Cimarroncito Camp. We are exhausted. It was a tough hike and we still have a kilometer to go. As Josh signs up the group for the rock climbing program I look over the staff's quarters. The building is much the same as any other back country, except for an eerie decoration located at the top of a pole in front of the building. The head of a ten point buck, complete with rib cage, has been wired there as its final resting place. Someone has even given it a red bow tie.
Al got the idea of asking if we could stay at this camp instead of going on to Webster Park. The staff turned us down flat. They explain that they really do not have room for us. Besides, the logistics back at tent city would not let them do it anyway. They have tried this before with other troops.
Moral plummets. Everyone had their heart set on being able to stay here. I almost wish Al would have never asked in the first place. The staff member tries to cheer us up by telling us that Webster Park is only fifteen minutes away, but it is uphill.
There is no reason to stay any longer so we put our packs back on and begin the last journey of today's hike. The guy was right. It was an uphill journey. He forgot to mention that it was a steep uphill battle. Everyone's mood is turning foul. I am glad that staff member is not with us. I probably would not be able to stop the crew from tearing him apart.
We came across a fork in our path. The maps are not clear on which way we should go. Josh and a few of the guys head down the left trail while the rest of us wait. Several minutes later they come back. It is not the one we want. We need to keep going uphill on the right path.
There have been few times in my life that I was as tired as I was when we finally arrived at Webster Park. Josh actually dropped his pack and let himself fall to the ground. Everyone is fatigued and angry. The fifteen minute hike had become a thirty minute trip through hell.
Webster Park is not our favorite camp at the moment.

Most of the crew takes it easy as we set up camp, until it starts to drizzle. Suddenly a last reserve of energy is found and camp is quickly finished. Everyone was famished so a decision was made to make a supper for lunch.
Another problem is discovered. Webster Park's water comes from a pipe in the ground. The water comes out of it at a trickle. I do mean a trickle. It takes us fifteen minutes to collect two quarts of water. It is another to hate this camp.
A few of the guys decide to go back to Cimarroncito Camp to take a shower. They take along a few canteens. Might as well make use of the trip.
Webster Park is an unstaffed camp with an excellent view of Tooth Ridge. Those who stay here have to entertain themselves. Or do like our crew did and get the animals to provide the entertainment. Jason and a couple other guys try to catch a couple of bold chipmunks who have been trying to get at our food. They have taken one of the ropes, tied it to a stick, and set a pot on it. When a chipmunk tries to take the bait placed under the pot they would pull the rope and have themselves a mini-bear. What they plan on doing with one I have no idea.
My body is letting me know that it does not appreciate what I have been putting it through these last few days. I have a blister on the big toe of my right foot and another one on the second toe of the left. The right side of my head, from the top, past the ear, to the neck, has been painful the last three days. I have no idea what the problem is but I hope it is not the start of something permanent.
It started drizzling around 2:30. Time to catch up on some shut eye. It is rather amazing. I am getting more sleep out here on the trail then I do at home but I still feel like taking a nap in the afternoon if the opportunity arises. Maybe it's the fresh air. Maybe it's the hard work of hiking. Whatever it is it is rather weird.

Shortly before 4:30 p.m. there is a bit of a commotion in the camp. I get up just in time to see a seven point mule deer buck walk by the camp. Nathan quickly grabbed his camera and began to stalk it. He was able to get with twenty-five feet of it before it moved on. The pictures he took should be pretty good ones.
A half hour later it started to rain again. The temperature is down to 57 degrees. Josh and Tim are in their tent. Tim is having fun irritating Josh by passing gas...constantly.
At this particular moment I would not mind if this trip was over with. I am getting bored. I am tired of backpacking. I am not looking forward to tomorrow. When I look over tomorrow's hike I begin to wander if we did not make a mistake when we planned our itinerary to include a trip to Harlan Camp.
To top it all off, the kids are starting to use foul language quite a bit again. This is one of the things that scouts do that really bothers me. And it doesn't help my point of view on the subject when other advisors use it. I feel so helpless against it. It seems that no matter how often I tell the guys to stop using it, that a good scout refrains from using foul language, it just seems to go in one ear and out the other.

Why am I here? Why did I come? It is hard to remember why I was so enthusiastic about going on this trip. I want to be home near my own bed, my shower, my chair and my stereo. I am ashamed to say it, but I even miss going to work!
THERE IS FOUR MORE NIGHTS OUT HERE !!!!!!!!
It is amazing how much a person can miss something when he does not have it anymore. Out here we have too much time to think about things, things at home that we would like to have right now. Things we could be doing.
Six years ago I was here for the first time. It was new. It was fun. It was exciting! It was with a small group of only five scouts. Three years ago I made another trek with a group that was slightly larger. Why? To see if Philmont really had the magic that I remember.
Coming a third time is staring to sound like the idea of a lunatic. I always seem to forget the hardships that come along with a trek. The heavy packs. The long strenuous hikes. The complaining and arguing. Yet here I am with ten teenage boys, none of who are mine, out in the wilderness where practically anything could happen.
Why?
Sure, it is the experience of a lifetime. (How many adult leaders can brag about going to Philmont three times?) Someone has to take the boys. (Parents don't just jump out of the woodwork to volunteer for a trip like this.) Hopefully, it is a growing experience for the boys.
Gee whiz! I am thirty-two years old. I made my first trek when I was twenty-six. How long do I plan to keep doing this?
Who knows? In four days I will probably start making plans for my fourth trip.
Yea, right!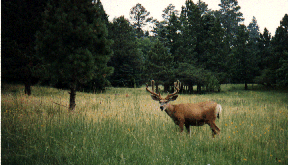 One of the many deer to visit us at our camp.
A buck, two does, and a yearling are grazing in the meadow that borders the east side of our site. Tom is trying to in get close for a good shot with his camera. Corey has grabbed mine and moves in on the yearling. The fawn avoids him but the nine point buck moves closer. Tom sneaks around behind the buck and tries to steer him closer to Corey.
We are going to have many pictures of deer when we get home.
The excitement never ends. Jason's water bottle has been attacked by a chipmunk. Greg and Paul keep pushing the blame on each other for the sticks being thrown at each other. I wish they would shut up and drop the subject.
It is shortly after 5:30 when the crew gathers around the campfire ring. For the last two days Al has been working on his version of how Santa Claus Camp got its name. It has developed into a full fledged story. The group grows quiet as he begins to tell his tale.
Suddenly, Peter yells. A chipmunk screams. Everyone turns to see Pete standing half way up the hill holding a rope in his right hand. Hanging, and I do mean hanging, from the rope by its neck is a chipmunk. Peter has finally caught one after patiently waiting with the noose lying over the burrow hole for the last fifteen minutes. The poor little creature is squirming around like crazy, trying to get get out of its predicament. Finally, after a few seconds, the noose loosens enough for the critter to fall to the ground. In a flash it vanishes. We are not bothered by mini-bears any more that night.
The laughter dies a few moments later and Al once again begins the story of Santa Claus Camp. Here it is, in its entirety, with the permission of its author.
There was a lot of snow that winter of 1853, too much for the horses and tired people moving through the mountains of northern New Mexico.
They had left in a train of wagons on the Santa Fe Trail, but were down to one wagon for two families; and they were lost. The wagon master, who knew the way to Cimarron, had died of typhoid on the plains of eastern Colorado. Now, they were nearing exhaustion as they searched through the canyons for human life.
It was December 24, and there were tears in the eyes of the parents as they kissed their children good night, for there was a chance that some of them would never wake up.
The sky was clear, with uncountable millions of stars, but the beauty of the night was swallowed by the intense cold. The Borgerdings and the Hansons were typical pioneer families, and they were near to meeting the fate that so many others met on the Westward march.
It took a few minutes before they realized that there was a stranger at the fire, before their cold-numbed senses could react. He was an old mountain man that the Utes called White Cheeks due to the soft white beard on his face. He had on snow shoes and a pack which was full of freshly butchered mountain lion.
Asking no questions, he stepped up to the fire and cooked his lion steaks for everyone. After eating he led them up to his cabin and safety.
Of course the children called him Santa Claus, and since he offered no other name, the parents joined in. The mountain man stayed with them through that long winter, teaching them the skills they needed to survive in the mountains.
In the spring, he loaded his beaver pelts in his pack and headed for the Taos Rendezvous. The Borgerdings and Hansons followed the clearly given directions to Cimarron where they told the story of Santa Claus to its inhabitants.
White Cheeks never got to Taos, nor was he ever again seen alive. The people who come to his canyon on Christmas Eve know that there is an old white faced mountain man sitting over a fire, and even though no lion has lived here for many years, there are always plenty of lion steaks for everyone. If you ask him, he'll tell you about the winter of 1853, and the families that called him Santa Claus.
Al has written an excellent story. The crew agrees.
The meadow is a popular place with the deer this evening. There are even more of them grazing. Maybe they wanted to hear the story of old White Cheeks too.
Supper was pretty good but several scouts are complaining that there is not enough food. Josh seems to be near starving. If this is any indication then the Spoden monthly grocery bill must be in the thousands of dollars.
Several of us sit around they campfire and discuss world matters after supper. Others go to the edge of camp to watch the nine deer that are grazing. Four of them are bucks. One of them has a very nice rack on his head. Tim can't believe what he sees. He sits there with his back against a tree and just watches them.
This is part of the magic of Philmont. Even in today's fast paced electronic age boys will sit for over a half hour and watch the deer as they graze only twenty feet away. There are not many places left where a person can do that anymore.
Greg, Nathan, and Paul walk down to the showers. They want to get some of the Philmont grime off their bodies.
Tonight we have our first campfire. Ross seems to the one who actually wanted it. We all sit around it and enjoy its warmth for the next twenty minutes.
It is time to do Roses and Thorns. Most of the crew agrees that the last thirty minutes of today's hike was the thorn. Josh and Tim choose their rose and thorn as there being only three days left. Corey surprises everyone by naming today's hike as his rose. Greg's rose is taking a shower and being clean again. My thorn is the 'thirty minute' hike. My rose is the end of the 'thirty minute' hike.
Most of the crew is in bed by 8:45 p.m. Al, Ross, Pete, and Jason stay up a bit longer to enjoy the fire. The evening is turning cool.
Wake up call will be at 5:30 am.

Ready to move on to the next part?
Then let's go to
Part 6.

1992 Philmont Journal:
1992 Philmont gallery:
(under developement)