Days #11 and 12



Saturday, August 8, Day 11

Today is our last full day on the trail. It is also the day we have been waiting for - the day we climb Schaefer's Pass.
We awaken early to the cries of a cowboy yelling "Hup" to the group of horses he in moving past our campsite. When I first awoke I thought it was some camper yelling about a bear in camp. Josh decides to get everyone up at 5:50 a.m. Everyone's gear seems to be fairly dry, except for Paul's down sleeping bag. It feels a bit damp. Hopefully it will dry by tonight.
It will take a little while for our tents to dry. Usually we set them in the morning sun before we pack them. That is going to be a bit difficult this morning. Our site is in a stand of trees. Sunshine is going to be rather scarce. The dry creek that was next to us last night has quite a bit of water moving through it this morning.
This is our last camp with a water supply. Josh and Tim use the opportunity to scrub the pots as clean as they can get them. If they do a good job we should not have to clean them again when we get back to base camp tomorrow.
We take our time as we pack the gear. We are not in much of a hurry to get to our next camp. There is no program or staff there. Only three meals remain to be carried. The sun does not dry our tents and flies very well so we end up packing them wet. We leave camp at 8:45 a.m.

Today's hike will be seven kilometers long, almost all uphill. We will be passing through Upper Clarks Fork Camp and Shaefers Pass Camp before we come to the stretch of trail we have been dreading since we began our trek - Shaefers Pass. I have hiked this trail during my last two treks to Philmont. It is steep, rugged, and full of switchbacks. Today we will be climbing it ... with our packs on. It will be quite a challenge. We will stop for a rest on Shaefers Peak before we go on to the last camp of our trek, Tooth Ridge Camp.
The hike from to Shaefers Pass Camp is almost totally uphill. Could this be training for the big hike? The crew is staying together well. We arrive at the Pass Camp at 10:05 am. Josh does not want to stay and rest for very long. He wants to get the pass out of the way as soon as possible. I talk him into let me get a group picture around a post full of signs before we leave.
Shaefers Pass turns out to be as tough as we expected, but not as long as I remembered it. Josh sets a fairly good pace. Rest stops are frequent, but no one is hearing any complaints from me. The group spreads out as the climb continues. Tom and Al are in the rear and seem to fall behind quickly. Tom is having problems with his legs and needs to take it slow.
We reach the summit of Shaefers Peak at 10:40. The kids are awed by the view as they drop their packs. Corey is astounded. Tom and Nathan are snapping pictures in every direction. To the North is the valley that we walked through yesterday. In the northwest rises Baldy Mountain. Everyone is glad they made. The hike was worth the trouble.

The hike to Tooth Ridge Camp is full of switchbacks and seems to go on forever. Every once in a while we would get a glimpse of the Tooth of Time but it never seemed to get any closer. It does not take too long before the boy's spirits begin to fall. Josh, who is still leading the expedition, has suddenly picked up the pace. The crew divides into two groups. Josh, Ross, Jason, Tim, Greg and Pete move ahead as if there is no tomorrow. The rest of us take it easy and try to enjoy the hike.
I am beginning to grow very irritated with the group ahead of us. They seem to have the attitude that we do not need to stick together. They are so far ahead that they do not hear or answer me when I call to them. Nathan sums up the situation when he says, "This Sucks!" I agree with him. Tom's knees must be getting pretty painful. He is getting slower and taking more rest stops as we go on.
Why is it that every group goes through this? What has happened to the thinking process? Being a team? Sticking together? I keep wondering what would happen if someone in the back group would get hurt. How will be guys in the front find out? Will they care? Where is the responsibility of the crew leaders to keep the group as one?
Actually, the group had stayed together very well during the whole trek. Until today.
I am not in a good mood when we finally do catch up with the fast pacesetters. I hold my tongue and do not say much to them about how I feel. In fact, I hardly talk to them at all. They finally stopped at the beginning of the trail that leads to the Tooth of Time. Their packs have already been formed into a pack line.
The decision is made to eat our lunch here. The group is somewhat quiet as we eat peanut butter, crackers, and slim jims. Everyone drinks their water sparingly. We will not be able to refill our canteens until we get back to tent city tomorrow.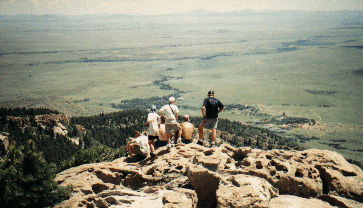 We reach the top of the Tooth of Time.

The Tooth of Time was probably the highlight for most of the crew. Before we begin climbing I warn the crew that I will not tolerate any horseplay or running around once we are on top. The Tooth can be a dangerous place if we are not careful. I even went so far as to threaten that anyone who does goof off up there will not receive their Philmont patch. They appear to understand my concern.
The path is well defined for the first half of the journey. Then it vanishes into a rocky outcropping that we end up half walking, half climbing. Soon, it is everyone for himself, trying to find a safe way to get to the top.
The scouts are glad to have come to Philmont when they reach the peak. It seems that we can see for hundreds of miles in every direction, and probably can. Almost all of Philmont's landmarks are there for us to see; Webster Lake, Deer Lake Mesa, Urraca Mesa, both Bear and Black Mountains, tent city, the training center, and of course, Baldy Mountain. Baldy looks a long way away from here, and it is; about seventeen miles as the crow flies.
This is what we came for. This is what Philmont is known for.
The crew spends it's first minutes exploring the nooks and crannies that the Tooth has to offer. I can not help but think what their mothers would be thinking as they approach the south side which happens to be a cliff over 400 feet high. Several of us look for the three markers that engineers and surveyors have placed on the Tooth. It is a tradition for those who climb the mountain to touch all three of them.
We spend close to thirty minutes on the Tooth before we head back down to our packs. Finding the trail again proves to be a challenge in itself. Find it we do and soon we are putting our packs back on. A few of the guys express an interest in resting here and taking a short nap. I remind them that once we get to camp they can sleep as much as they want. Besides, it is only a half of a mile from where we are currently standing.

It does not take us long to hike to Tooth Ridge Camp. One other crew is already there. Josh chooses a nice site on the east end of the camp. Camp is erected slowly. Most of our tents still need drying out from this morning. Finding the sump proved to be difficult, not that anyone really cares. All our meals for the rest of the trek are dry, no cooking needed. We should not need to dirty any dishes.
This afternoon's main activity is sleeping. Everyone is bushed after the long, hard hikes.
Just above our campsite, to the South, is a rock outcropping which is excellent for sitting at and looking out over the southern part of Philmont and beyond. Josh and I wander up there. I would like to have a chat with him.
I complement him on being a very good crew leader. He is probably the best one I have had on my three trips out here. Granted, he broke away this morning as we hiked but when I view the trip as a whole he did an excellent job. We also talk about how well the crew got along with each other. The teamwork was outstanding. Over all it was a most excellent journey. We talk for a half hour before Ross comes up to see what we are up to.
Josh and I had talked about waiting with supper until 6:00 but by 4:50 most of the group are complaining about hunger pains. It does not take long until the last meal is out and ready to eat. Oh boy, spreadables and club crackers. Al, Tom, Jason and I wait with our portion of the meal until we are through playing three hands of cribbage. This time Al and Tom win, two games to one.
Our water supply is getting pretty low.

Around 6:00 we notice a deer and two fawns in the campsite to the West of us. The crew that is camping there is feeding the deer right out of their hands. The doe stays with them for over twenty minutes. Then it meanders over to our site.
We try to bring it into our camp by acting as if a pine cone in our hand is food for it. When it catches on to that trick Nathan grabs a fruit bar out of his pack and holds it out for the deer. The deer is cautious as it approaches but soon it is eating out of Nathan's hand. That is until Nathan gets nipped by it. He suddenly decides that he does not want to feed it anymore.
Jason is playing 500 rummy with Al, Tom, Corey and Paul. He gives me permission to take a pemmican bar out of his pack and give it to the deer. It works well! The doe really likes it.
Between feedings the doe tries to turn over a rock but is not having any luck doing so. I try to talk to it nicely as I bring my hand in to turn the rock over for it. It tries to stamp on my hand when I get close to it. Whatever is under there the doe wants for itself. I guess you could say that I got a good scolding. I was just glad that it missed my hand. That could have proved to be quite painful.
I go back to try to feed it out of my hand. This time it lunges for the food and nearly takes my hand along with it. It is my turn to scold it. I have decided that I do not want to feed it anymore either.
It sticks around our camp for half an hour. We know the fawns are around but never see them again. They have moved into the safety of the scrub brush. The doe finally does accomplish turning that rock over. There seems to be a salt deposit on the underside of it. Kinda looks a little like cocaine. We come up with some funny notions of what a deer, high on cocaine, would look like.

The last evening in the backcountry approaches. Nathan has a little trouble trying to get the rope over the bear cable. Several of the scouts head over to the Texans campsite. It will be one of the last times they will get a chance to chat with each other. Tomorrow is going to be a busy day.
It is time for our last Roses and Thorns. The scenery seems to be the most popular rose. The hike and the food situation are the most common thorns. My thorn is that the trip is nearly over. My rose is the great bunch of guys that made up this great crew.
Tim makes mention that the Texas guys swear a lot. This surprises me. Tim is known for using that language himself on occasion. If he noticed the Texans using it they must have really been bad. It is a shame that leaders allow their scouts to use foul language and not say anything about it. Could it be that they themselves are using it? If so, then maybe they should not be a leader over young men. They should be setting a good example for the boys to follow.
It is a calm, warm night as we tuck ourselves into our sleeping bags shortly after 8:30.
It is a perfect night to end our trek on.





Sunday, August 9, Day 12

It is nice and warm as we awaken shortly before six. The sky is clear. It is a perfect start for our last morning in the mountains. In fact, it is so warm that I decide to wear shorts right away instead of the usual jeans. That is a first.
I explained to the crew to make sure that their tents were clean and that they leave no trash or paper in their tents. That is, if they want a quick checking at base camp. Time we use here to make sure things are in order will save us time when we get in. I was almost finished packing when Al mentioned that the sun was starting to rise and that it looks pretty sharp. I grabbed my camera and walked over to the rocky area that he was watching it from. I snap a few shots. Maybe they will be award winning photographs.
By 6:45 we were on our way down Tooth Ridge toward tent city. The hike will be a bit over four kilometers long and will be downhill most of the way. It was actually an easy hike. Unfortunately, Tom knees are giving him trouble again. Even though he and Al fall behind us we are pretty much together as we arrive at tent city at 8:15. A sign over the path says, "Welcome back. You made it!" It feels great to be back.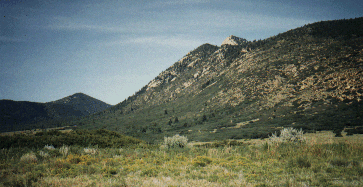 Looking back at the Tooth of Time.
We head straight to the Welcome to check in and get our tent assignments. We also receive an evaluation form for the crew, the crew leader, and each advisor, and a checklist of things we need to do now that we are back.
Our tents for the evening are practically the furthest from the main section of camp that we could get. It looks as if we will still have a lot of hiking to do. We moved in and unpacked all of the crew gear that would need to be returned. Then it was off to do the things listed on our checklist.
The first place we went was to our lockers to pick up the crew gear we left behind, like small pots and some utensils. Our next stop was the Services area to return our tents and cooking gear. I expected to spend at least 45 minutes to turn our things in. I was pleasantly surprised as to how quick it went. The guy who took care of us seemed to be a bit bored or in a hurry. He checked through our tents and flies with ease.
I thought for sure that we would have to scrub our pots again. After all, we did the last two times we were here. I was astonished when he took a quick look at the pots and utensils and passed them without a second glance. Josh and Tim's scrubbing back at Clarks Fork really paid off. We finished checking at Services in what seemed like record time.
Al went to the Administrative building as the rest of us headed back to our tents. He was going to get our money out of the safe. Josh and I decided to see if we could try to finish the checklist and get that job out of the way. Our first stop was to pay our bill at the trading post for the things that we had charged at Ponil. Then it was on to the Admin. Building to show them the receipt and turn in our animal survey card.
Al discovered that we could change the time we would leave camp tomorrow. Instead of leaving at 3:00 p.m. like we had signed up for we could head out at 9:30 a.m. That created a little discussion with in the ranks. It was finally decided that we should go at 9:30 because there would not be enough to keep us busy here for six hours tomorrow. Josh and I headed up to the Logistics building to chance our departure time and get our 50 miler certificate. On the way back we stopped at security to drop off our locker keys. We also swung by the post office to pick up our mail. Over half the pile was for Al and Tom. Mary Hanson had promised that she would write me but she didn't. Mary Monroe did, however. It felt good to get a piece of mail.
I was sad to discover that my razor had died during my absence. I will be clean but not clean shaven when we go home. Tim takes the razor off my hands. He wants to take it home and see if he can get it to work again.
The crew was scattered around base camp for the rest of the morning. Their two favorite places were the trading post and the snack bar. Not that there was anyplace else to go. Philmont could use something more to keep scouts busy when they are in camp.
Our tour of the Villa Philmonte began at 2:00. The Villa was the home of the late Waite Phillips, who donated most of the land that makes up Philmont. His home is now a museum. Hundreds, if not thousands, of scouts and scouters tour the Villa every year.
The guys were impressed with the home. The living room is larger then most people's living, dining, and kitchen areas combined. The room is filled with antiques, including a piano of which only four are left in the world. We also toured the master bedroom and bath, the library, the dining room, and Waite's den and trophy room.
We stopped by the museum to buy a few souvenirs on the way back from the Villa. Several of the scouts were disappointed to learn that they had sold out of Philmont bolo ties. A few guys bought some items to give to family members or girlfriends. Tim was still shopping as I left. I told him to meet me at the snack bar. The gals behind the counter heard this and told me to bring them an ice cream cone. I was tempted too but did not want to walk all the way back there again.
I wanted everyone to meet at the snack bar so that I could by them all a cone. I was very pleased with the way the trek went and wanted to show a little of my appreciation. When I called Tom up to the doorway to help me carry the cool treats they figured out what I was up to.
The afternoon shower almost missed us. The group kept themselves occupied by playing cards, listening to tapes or buying more souvenirs. Several of us began to pack our gear for the journey home tomorrow.
After a supper of roast beef and mashed potatoes we attended religious services. A couple of the scouts tried to talk their way out of going but I would have none of that. A scout is reverent. Today is Sunday. We will be going to services. Josh seems to be having the hardest time accepting the idea. He kept goofing off during mass until I finally told him to leave. I was not very happy with his attitude. He settled done and behaved for the rest of the service.
The closing campfire was great! We had some of the best seats in the 'house,' front row. The staff began the campfire by signing, "Your Mamma don't hike and your Daddy don't sleep outside." They made fun of the crew leaders and how they would light camp stoves. Fun was made of two Philmont favorites - trail food and the open air latrines. They also did a rendition of the Gilligan's Island theme song done to the tune of 'Stairway to Heaven.'
Laughter filled the arena when they made fun of the adult advisors. They explained that when an adult gets tired it suddenly becomes time to snap a picture of the scenery. They told a story about how a crew leader was able to keep his crew leader moving when he started to fall behind. He fell back to talk with the advisor. He pointed done the trail and exclaimed, "Mr. Advisor, is that a lazy boy recliner I see at our next camp?" The advisor began to walk faster. The crew leader thought to himself, this is working pretty well. Maybe I can get him to walk even faster. "Mr. advisor," the crew leader said as he pointed one more time, "is that a television I see in front of the recliner?" The advisor began to sprint down the trail.
The crew leader thought himself to be really smart by this time, but he thought he could do even better. He pointed down the trail one last time and put everything he had in his next comment. "Mr. Advisor, is that a refrigerator full of beer next to that chair?" Within seconds the advisor had disappeared, leaving only smoke in his wake.
The campfire began to wind down when the staff presented poetry by Ralph Emerson and some words of wisdom from Waite Phillips. The advisors were called forward to present the crew leaders with the flag that they had used during their trek. (This was a change from past treks I had been on. The crew leader had presented the advisor with the flag.) I was proud to give the flag to Josh. He had deserved it. I just hoped he would not use it as a bandanna at a later date. The crew leaders were also given their crew's arrowhead patches at this time. These patches should mean a lot to the scouts. They had hiked over 50 miles through the mountains to earn them. The fire ended with everyone joining in signing the Philmont Hymn.
Most of us went to the snack bar next. It was our last chance to have a pizza before we left. Tim and Pete used this time to chat with the Texas crew one last time. Nathan took some of my council patches and tried his luck at trading. I had six sharp looking patches to add to my collection by the time he finished.
When they closed the snack bar we knew that our last day at Philmont was coming to a close. Everyone was a little excited at the prospect of going home. By 10:30 we were in bed.





Ready to move on to the next part?
Then let's go to
Part 8.

1992 Philmont Journal:
1992 Philmont gallery:
(under developement)