| | | |
| --- | --- | --- |
| | | |
---
---
Boy Scout Troop 68
Order Of The Arrow

Naguonabe Lodge #31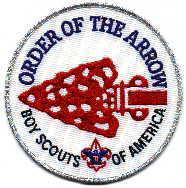 Central Minnesota Council
Page 2
September 17-19, 2004
Sectional Conclave


The Sectional Conclave was held at the Camp Ripley National Guard Base. It was quite a large gathering of Order of the Arrow members who had a lot of fun and fellowship. It was great to meet others from other lodges, trade patches, and just have a great time.
| | | |
| --- | --- | --- |
| OA officers from the Naguonabe Lodge prepare for the flag raising on Saturday morning. | One of the fun activities was the old dunking tank. | Participants had the chance to try throwing spears and other more primitive weapons at a few activity areas. |
| Central Minnesota council and troop leaders were on hand to help out where needed. | The Saturday feast was held outdoors. The weather was great over the weekend and allowed a lot of outdoor activities. | These two members had to find the hidden object in a bowl of "food" without the use of their hands. |
---
May ??-??, 2005
Spring Conclave
Only one Scout and one adult from Troop 68 attended this year's spring conclave that was held at Parker Scout Reservation, but they had fun and meet a lot of fellow Order of the Arrow members. The crews got a lot of projects done around the camp. Troop 68 member Chris K. was received as a brotherhood member of the lodge.

| | | |
| --- | --- | --- |
| Lodge chief Brent checks does some last minute checking before heading out. | Troop 68 member Chris K. (center) joins fellow Brotherhood members in the kitchen. | A game of Ultimate Frisbee was a great way to meet people and have some fun. |
| The sashes and feathers are ready for the Ordeal candidates' ceremony. | The ceremony team was looking fine in their costumes. | A few of the lodge officers take a few minutes to chat outside of the dining hall. |
---
May 19-21, 2006
Naguonabe Spring Conclave

Four members of Troop 68 attended the spring conclave. The three youth members, Jeff R., Alex K., and Dakota M., had been recently elected and went through their Ordeal. Their scoutmaster had the chance to meet with old friends and form a few new friendships. The big project for the weekend was the planting of over 5000 trees around Parker Scout Reservation.

| | | |
| --- | --- | --- |
| The lodge chief and vice chief headed the ordeal call-out ceremony Friday evening. | In addition to planting thousands of trees, work was also done to improve the campsites. | The ordeal ceremony team poses for a picture before the ceremony begins Saturday afternoon. |
| The Ordeal candidates arrive at the ceremonial campfire ring to become OA members. | The Scouts from Melrose Troop 68 pose with the ceremony team after becoming OA members. | The Saturday night feast was a steak and shrimp meal with baked potatoes and brownies. |
---